Posts for: May, 2013
By Sarah J. Morris, DDS, PLLC
May 30, 2013
There is nothing pleasant about having a loose tooth. It can be very unsettling to feel your tooth move around, and you may be worried about losing the tooth entirely. If you notice any looseness in your teeth, you should make an appointment with our office immediately, so that we can determine the underlying cause.
There are two reasons for loose teeth, and most often, this looseness is actually a late symptom of gum (periodontal) disease. If left untreated, this disease destroys the supporting structure of your teeth, including the bone. As bone loss progresses, teeth gradually become looser, and if you do not seek treatment, this can ultimately result in tooth loss.
Another less common reason for loose teeth is excessive biting forces, including clenching or grinding of the teeth. These biting forces are outside the normal range of functional pressures and can stretch the periodontal ligaments that join the teeth to the supporting bone, resulting in loose teeth.
In both cases, this condition can be classified as "occlusal (bite) trauma." When we examine you, we will determine the type of occlusal trauma that you have.
If the amount of bone supporting your teeth is normal and excessive force is causing your loose teeth, it then is referred to as primary occlusal trauma. Our treatment approach will focus on reducing the biting forces. We may recommend minor bite adjustments and/or custom mouthguards.
Secondary occlusal trauma occurs when gum disease has caused excessive bone loss. In this instance, even normal biting forces can be damaging. We will work with you to treat the gum disease and improve your oral hygiene efficiency to heal your gums. Once the gum tissue heals and the inflammation is reduced, it is likely that there will be some tightening of the teeth. We will then adjust the biting surfaces of your teeth. This is accomplished by carefully reshaping (by drilling) small amounts of your tooth's surface enamel to change the way upper and lower teeth contact each other, thus redirecting forces. Secondary occlusal trauma may also require splinting or joining teeth together, so that they can handle biting pressures. The need for this additional procedure will be determined by your response to treatment and how much mobility of the teeth remains after the inflammation is resolved.
If you would like more information about loose teeth, please contact us or schedule an appointment for a consultation. You can also learn more by reading the Dear Doctor magazine article "Loose Teeth: Biting Forces Can Loosen Teeth."
By Sarah J. Morris, DDS, PLLC
May 15, 2013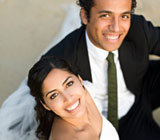 You're planning for one of the most important days in your life — your wedding — and you want everything to be perfect. You've chosen the outfits, the setting, the flowers... but there's one more thing to think about. Is your smile just as bright as your hopes for the future? Do you wish you could improve its appearance in time for the big date?
Here's good news: You can! Depending on how much advance notice you have — and what level of enhancement you need — your wedding day smile makeover can range from a thorough dental cleaning to a full-scale orthodontic treatment program. Let's look at a few options that can help you look and feel your best on this very special day.
Getting your teeth thoroughly, professionally cleaned can help remove some surface stains and tartar in just one appointment! Depending on the level of discoloration, and how long it's been since your last cleaning, more than one session may be needed. You have this basic and effective treatment done every three to six months anyway — right? So, be sure and schedule one before your wedding!
Sometimes your smile needs more than just routine maintenance. If that's the case, there are many other options to help it look its best. Tooth whitening is a safe, effective and economical way to lighten teeth by several shades. In-office treatments are quicker and more predictable, but dentist-supervised at-home bleaching kits are also an option if you have more time.
Porcelain veneers offer a more striking and more permanent solution for discolored teeth. To get the optimum "wow" effect from this treatment, figure from two to four office visits, and a total treatment time of at least three months.
Cosmetic bonding is a great way to hide those little chips in the front teeth, or discolored old fillings in back. Using the newest high-tech materials and a dose of old-fashioned artistry, we can restore the shiny, translucent look of your natural teeth — only with fewer imperfections. After a thorough evaluation, cosmetic bonding can often be performed as a one-visit procedure.
If your smile needs even more help, don't despair — there are still plenty of ways to improve it.
Teeth that are damaged or missing can be restored by crowns or bridgework. When the roots are intact, a crown replaces the visible part of the tooth above the gum line. If the tooth is missing, a bridge is used to secure a false tooth to two abutments on either side. Properly done, these restorations may last a decade or more, and generally require two or more visits.
Dental implants are a great way to restore missing teeth. They offer a permanent, natural-looking tooth replacement with numerous advantages over other restorative treatments. Achieving these results requires careful planning and takes a bit more time. If you need tooth restoration, be sure to ask us whether dental implants might be right for you.
If you would like more information about a wedding-day smile makeover, don't hesitate to contact us or schedule an appointment to discuss your treatment options. You can learn more in the Dear Doctor magazine article "Wedding Day Smiles."