Posts for: July, 2014
By Sarah J. Morris, DDS, PLLC
July 23, 2014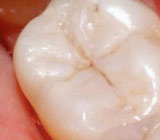 Q: I've never heard these terms used in dentistry. What are they?
A: In the decorative arts, an inlay refers to a small piece of distinctive material that's set into a larger matrix: a mother of pearl accent worked into the lid of a wooden box, for example. In dentistry, it means something similar: a filling (or restoration) that's fabricated in a dental laboratory, and then set into a tooth in an area that has been damaged or lost.
Q: What's the difference between inlays and onlays?
A: An inlay is made to fit in between the cusps (small points or ridges) of a back tooth (molar or premolar), and it covers only a small region of the biting surface of the tooth. If the restoration covers one or more of the cusps, it's an onlay.
Q: Why would I need to have one of these restorations?
A: When a tooth has suffered damage (from decay or trauma, for example), and the affected area is too large to fill with a simple filling — but not large enough to need a full crown (cap) — then an inlay or onlay may be just right. Both of these procedures are considered "indirect fillings," because the restoration itself is custom-fabricated in a laboratory and then bonded to the tooth in the dental office.
Q: What is the procedure for getting an inlay or onlay?
A: It's similar to having a crown placed, in that it typically takes more than one office visit — yet an inlay or onlay involves less removal of tooth structure than a crown would require. On the first visit, after the area has been anesthetized (usually with a numbing shot), any decay is removed, and the tooth is shaped to receive the restoration. Next, a model of the tooth is made (either with putty or in digital form), and the tooth receives a temporary filling. The laboratory uses this model to create the actual inlay or onlay, which may take a few days; it is then permanently attached to the tooth on a second visit to the office. However, with today's advances in CAD/CAM (computer aided design/ manufacturing) technology, some inlays or onlays can be made in the office and placed in the same visit.
Q: What else do I need to know about these tooth restorations?
A: Both inlays and onlays are strong and long-lasting restorations that need no more care than you would normally give your teeth: namely, regular brushing and flossing, and periodic checkups at our office. But because they don't require the removal of a great deal of natural tooth material, they are considered relatively conservative treatments. After a thorough dental examination, we can recommend the type of tooth restoration that's most appropriate in your individual circumstances.
If you'd like to find out more about inlays or onlays, please contact us or schedule an appointment for a consultation. You can also read the Dear Doctor magazine articles "Porcelain Crowns & Veneers" and "The Natural Beauty of Tooth Colored Fillings."
By Sarah J. Morris, DDS, PLLC
July 15, 2014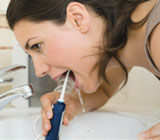 The main strategy in fighting dental disease is to try to prevent it in the first place. The success of this strategy depends largely on effective oral hygiene with three essential elements: daily brushing, daily flossing, and semi-annual checkups with professional cleaning.
Many people have little trouble incorporating brushing into their daily routine; flossing, though, is a different matter for some. They may feel it's too time-consuming or too hard to perform. Patients with orthodontic appliances especially may encounter difficulty navigating the floss around the appliance hardware.
Flossing, though, is extremely important for removing bacterial plaque, the primary aim of oral hygiene. This thin film of food remnant that builds up and sticks to the teeth is the breeding ground for bacteria that cause both tooth decay and periodontal (gum) disease. It's important that as much plaque as possible is removed from the teeth and gum surfaces every day. While brushing removes plaque from the open surfaces of the teeth, flossing removes plaque clinging between teeth and around the gums that can't be accessed with a toothbrush.
If traditional flossing is too difficult, there's a viable alternative using an oral irrigator. Also known as a water flosser, an oral irrigator directs a stream of pressurized, pulsating water inside the mouth to blast away plaque in these hard to reach places. The hand applicator comes with a variety of tips that can be used for a number of dental situations, such as cleaning around braces or implants. In home use since the early 1960s, the latest versions of oral irrigators have proven to be very effective, especially for orthodontic patients — research shows an oral irrigator used in conjunction with brushing can remove up to five times more plaque than just brushing alone.
That being said, traditional flossing is also effective at plaque removal when performed properly. Sometimes, resistance to flossing can be remedied with a little training during dental checkups. We can work with you on techniques to improve your flossing activity, as well as train you to use an oral irrigator.
Whichever method you choose, it's important for you to incorporate flossing (or irrigation) into your daily routine. Removing plaque, especially in those hard to reach places, is essential for reducing your risk of developing destructive dental disease.
If you would like more information on flossing or oral irrigation, please contact us or schedule an appointment for a consultation. You can also learn more about this topic by reading the Dear Doctor magazine article "Cleaning Between Your Teeth."