Posts for tag: braces
By Sarah J. Morris, DDS, PLLC
September 26, 2017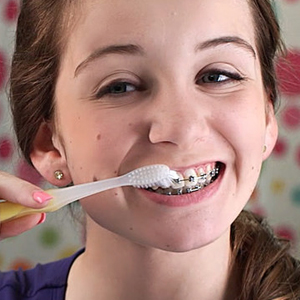 While braces are a tried and true method for achieving a more attractive smile, they may also give rise to problems with dental disease. This is because their hardware — the brackets and bands that serve as tracks for the tensioning wires — make it more difficult to access the tooth and gum surfaces to clean away plaque. This thin film of food remnant may then become a haven for bacteria that cause gum disease or tooth decay.
One of the more common conditions to occur while wearing braces is gingivitis. This is an initial inflammation of the gum tissues caused by bacterial plaque that hasn't been removed by brushing or flossing. As the inflammation grows unchecked, the infection could advance deeper into the tissues to become a more serious form of gum disease that threatens the survival of affected teeth.
Difficult as it may be for those wearing braces, the best way to avoid gingivitis is through more thorough oral hygiene practices. Fortunately, there are many hygiene products that can help you get around many of the access difficulties posed by braces. Smaller toothbrushes known as interproximal brushes and floss threaders, small aids that thread dental floss under braces wires, can access the spaces between teeth more readily than conventional brushes or floss. Water flossers (which use water under pressure to remove plaque between teeth) and motorized toothbrushes can further increase efficiency. We can also reduce bacterial growth in the mouth if need be with prescription-strength antibacterial mouthrinses.
If, however, gingivitis or gum overgrowth (another common occurrence during orthodontic treatment) continues to be a problem, we may need to take other actions including surgery. In extreme cases, the braces may need to be removed to adequately treat the gums and allow them time to heal before proceeding with orthodontics.
Extra care with daily hygiene and regular dental checkups and cleanings in addition to your orthodontic visits will help keep gum problems at bay while you're wearing braces. Taking this extra care will stop or minimize the effect of disease as you continue on to the ultimate goal of your orthodontic treatment — a more beautiful smile.
If you would like more information on dental care during orthodontic treatment, please contact us or schedule an appointment for a consultation.
By Sarah J. Morris, DDS, PLLC
September 09, 2013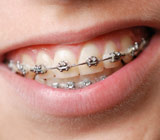 All parents want their child to have an attractive smile and good strong healthy teeth; but it may be difficult for parents to know if their young children's teeth are coming in the way they should. Parents may not know that it is also important that the upper and lower jaws need to be in proper alignment for a properly functioning bite.
As a child's permanent teeth come in, the teeth may be too crowded, or they may have spaces between them that are too large. They can have protruding teeth, extra or missing teeth, or problems with jaw growth. Sometimes children have malocclusions ("mal" – bad; "occlusion" – bite) that were caused by thumb sucking or other problems. If you wait to seek treatment until all of the child's permanent teeth have come in, and facial and jaw growth are nearly complete, correction of problems will be more difficult and the potential to encourage jaw growth in a positive direction may be lost.
When a little can go a long way
Whether a malocclusion is obvious or not it is important to have an orthodontic evaluation at an early age. Experts advise having an orthodontic evaluation some time before the age of 7. At 7, a child's permanent (adult) teeth have begun to come in but they still have some primary (baby) teeth left. If necessary, it's a good time to intercept and make a big difference for a little treatment.
Treatment that begins while a child's teeth are erupting or coming in, is called "interceptive orthodontics." It provides an opportunity for the best results in orthodontic treatment. It can also include working with the child's facial growth and jaw development to assure that the upper and lower jaws align together effectively. It can often be done with simple removable appliances rather than full braces.
Orthodontics ("ortho" – straight; "odont" – tooth) is a sub-specialty of dentistry that is devoted to the study and treatment of malocclusions. Your general or pediatric dentist may recommend that our child consult with an orthodontist. Orthodontists are dentists who specialize in the growth and development of the teeth and jaws, as well as directing proper growth by moving the teeth into correct position.
Come to see us early for an orthodontic evaluation, while it's still easy to make a big improvement in your child's future smile.
Contact us today to schedule an appointment or to discuss your questions about orthodontia in children. You can also learn more by reading the Dear Doctor magazine article "Early Orthodontic Evaluation." Or the article "The Magic of Orthodontics."
By Sarah J. Morris, DDS, PLLC
May 06, 2012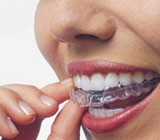 If you are dissatisfied with the way your smile looks, and your dentist is unhappy with the way your teeth fit together — but you don't like the idea of wearing braces — clear aligners may be your best solution. How much do you know about this teeth-straightening alternative? Below are some FAQs on the subject.
What do we mean by clear aligners? Clear aligners are a system for straightening teeth that uses clear plastic removable "trays" that fit over your teeth. As the teeth move to fit the trays, new trays are substituted that are designed to continue to move your teeth into the desired position. This system is an alternative to the traditional system of brackets and wires known as braces.
How can teeth be moved to new positions? The connection that holds a tooth in place in your jaws — the periodontal ligament — is not immobile. It constantly changes its position based on the normal forces of your bite. As the ligament is pushed on one side and pulled on the other, the living cells of your mouth respond by depositing bone and cementum (the protective covering of the tooth's root) on one side and dissolving it on the other. Normally this happens in a balance, maintaining your teeth in their position. We can manage these slight changes by applying constant light forces to move teeth in a predictable way.
How long does it take to move teeth to their optimum position using clear aligners? As with braces, the process is gradual. Total treatment time can range from six months to two years.
Do the trays have to be worn all the time? As you move through the sequence of trays, each is worn for 20 hours per day for two weeks. They may occasionally be removed for important social occasions.
How does an orthodontist design the sequential trays that are used? The trays are designed using a computer, based on an assessment and images of your mouth, teeth and jaws.
What kinds of problems can clear aligners correct? This method works well to correct mild to moderate crowding or spacing. If your back teeth already fit together as they should, the system may be ideal. If you have an extreme overbite or underbite, braces might work better.
Are clear aligners an alternative for everyone? Clear aligners are recommended for adults and recently, teenagers. They are not usually recommended for young children.
Why is it important to have your teeth straightened? Besides the obvious benefit of feeling better about yourself and your appearance, straight and well-aligned teeth work better. You will experience a better-functioning bite and can improve your oral health.
Contact us today to schedule an appointment to discuss your questions about orthodontics and clear aligners. You can also learn more by reading the Dear Doctor magazine articles "Clear Orthodontic Aligners" and "Moving Teeth With Orthodontics."