Posts for tag: fillings
By Sarah J. Morris, DDS, PLLC
May 17, 2018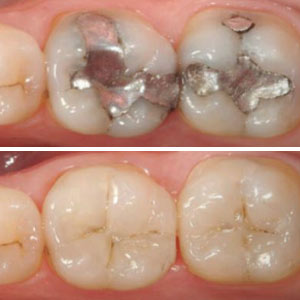 For over a hundred years dental amalgam — a combination of silver, mercury, tin and other metals — has been an effective filling material for teeth damaged by decay. But it has one major drawback — its metallic appearance stands out in stark contrast to the natural color of teeth.
As an alternative, composite resin fillings can match the color, shape and texture of natural teeth. These materials and the techniques used to bond them are proving just as effective as and more aesthetically pleasing than dental amalgam.
Fillings help protect and preserve a decayed tooth. By first removing decayed tooth structure through drilling, the resulting void is filled with durable material that strengthens the tooth and provides it protection from further decay.
The ultimate goal for restoration is to return the tooth to as near normal form and function as possible. Dental amalgam serves well in terms of function, providing the tooth strength in the face of the daily biting forces it encounters. In contrast, composite resins excel in appearance, but haven't always matched the durability of amalgam. They're material construction has improved over time, though, as well as the techniques used to bond them to teeth.
Most of these bonding techniques incorporate layering. The first step is to seal the dentin (the porous, living tissue just below the enamel); we then build up the composite material layer by layer within the tooth using special bonding adhesive and curing lights. In some cases where a large volume of tooth structure must be replaced, the restoration is first formed on the tooth and then removed for curing before being cemented into the tooth or a separate restoration is formed by a dental lab.
The end result is a tooth which both looks and functions like a fully intact tooth. Though care must be taken not to subject composite resin restorations to undue forces (no cracking open nutshells, for example), your new filling should continue to serve you and look great for a long time to come.
If you would like more information on metal-free restorations, please contact us or schedule an appointment for a consultation. You can also learn more about this topic by reading the Dear Doctor magazine article "The Natural Beauty of Tooth Colored Fillings."
By Sarah J. Morris, DDS, PLLC
July 23, 2014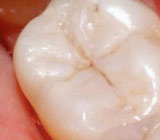 Q: I've never heard these terms used in dentistry. What are they?
A: In the decorative arts, an inlay refers to a small piece of distinctive material that's set into a larger matrix: a mother of pearl accent worked into the lid of a wooden box, for example. In dentistry, it means something similar: a filling (or restoration) that's fabricated in a dental laboratory, and then set into a tooth in an area that has been damaged or lost.
Q: What's the difference between inlays and onlays?
A: An inlay is made to fit in between the cusps (small points or ridges) of a back tooth (molar or premolar), and it covers only a small region of the biting surface of the tooth. If the restoration covers one or more of the cusps, it's an onlay.
Q: Why would I need to have one of these restorations?
A: When a tooth has suffered damage (from decay or trauma, for example), and the affected area is too large to fill with a simple filling — but not large enough to need a full crown (cap) — then an inlay or onlay may be just right. Both of these procedures are considered "indirect fillings," because the restoration itself is custom-fabricated in a laboratory and then bonded to the tooth in the dental office.
Q: What is the procedure for getting an inlay or onlay?
A: It's similar to having a crown placed, in that it typically takes more than one office visit — yet an inlay or onlay involves less removal of tooth structure than a crown would require. On the first visit, after the area has been anesthetized (usually with a numbing shot), any decay is removed, and the tooth is shaped to receive the restoration. Next, a model of the tooth is made (either with putty or in digital form), and the tooth receives a temporary filling. The laboratory uses this model to create the actual inlay or onlay, which may take a few days; it is then permanently attached to the tooth on a second visit to the office. However, with today's advances in CAD/CAM (computer aided design/ manufacturing) technology, some inlays or onlays can be made in the office and placed in the same visit.
Q: What else do I need to know about these tooth restorations?
A: Both inlays and onlays are strong and long-lasting restorations that need no more care than you would normally give your teeth: namely, regular brushing and flossing, and periodic checkups at our office. But because they don't require the removal of a great deal of natural tooth material, they are considered relatively conservative treatments. After a thorough dental examination, we can recommend the type of tooth restoration that's most appropriate in your individual circumstances.
If you'd like to find out more about inlays or onlays, please contact us or schedule an appointment for a consultation. You can also read the Dear Doctor magazine articles "Porcelain Crowns & Veneers" and "The Natural Beauty of Tooth Colored Fillings."
By Sarah J. Morris, DDS, PLLC
August 21, 2011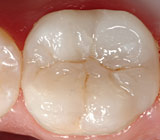 While the goal of restorative dentistry is to return all of the destroyed or lost dental tissues of the teeth to full form (shape) and function, when you blend this goal with the artistry of cosmetic dentistry, the results can be dazzling. Today's modern techniques and materials enable replacement of missing tooth structure that allows bonding directly to the tooth so that it not only is an exact color match but also actually strengthens the tooth. And tooth-colored fillings are not just for front teeth. They can dramatically improve the appearance of all teeth — even your back molars — so that it appears you've never had tooth decay at all!
All of this is accomplished through the use of either tooth-colored dental porcelain or composite resins. Porcelains are a form of ceramic material formed by the action of heat. They are available in many colors and shades made from a powder corresponding to the primary color of the natural tooth structure that is mixed with water and placed into an oven for firing (hence their ceramic nature). When built up in layers by highly trained dental ceramicists, they can be made to mimic the exact natural translucency, staining and contours of tooth enamel.
Dental composite resins are the most common materials used for tooth-colored adhesive restorations today and have properties similar to tooth structure. They consist of resin or special plastics and fillers that are made of silica, a form of glass. The fillers give the composites wear resistance and translucency (see through properties).
It is important to note that besides providing the appearance of beautiful teeth, properly restored teeth function and wear better. But most important to you, they appear indistinguishable from natural teeth! Furthermore, scientific studies and clinical experience have validated their use as both safe and predictable. In fact, these techniques are also suitable for children's teeth and can incorporate fluoride to reduce decay. Together, all of these changes have so significantly impacted the way modern dentistry is practiced that many believe we may have entered into the so-called "post-amalgam (silver metal-colored dental fillings) era."
Contact us today to schedule an appointment to discuss your questions about tooth-colored fillings. You can also learn more by reading the Dear Doctor magazine article "The Natural Beauty of Tooth Colored Fillings."