Posts for tag: mouthguard
By Sarah J. Morris, DDS, PLLC
October 21, 2013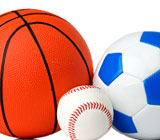 Everyone knows that football players and boxers wear mouthguards to protect their teeth from injury — in fact, it's thought that this essential piece of protective gear was first developed, around a century ago, for the latter sport. But did you know that many other athletic activities carry a high risk of dental injury?
How much do you know about dental injuries in sports? Take this quiz and find out!
True or False: Of all sports, baseball and basketball are associated with the largest number of dental injuries.
True. While these games aren't categorized as "collision" sports, the damage caused by a flying elbow or a foul ball may be quite traumatic. Tooth damage or loss can create not only esthetic problems, but also functional problems, like difficulty with the bite. Missing teeth can also be expensive to fix — running up a lifetime tab of some $10,000 - 20,000 if they canâ??t be properly preserved or replanted.
True or False: In general, oral-facial injuries from sports decline from the teen years onward.
True. Sports-related dental injuries, like other trials of adolescence, seem to peak around the teenage years. It's thought that the increased skill level of participants in the older age groups reduces the overall incidence of injury. But there's a catch: when dental injuries do occur in mature athletes, they tend to be more serious. So, protecting your teeth while playing sports is important at any age.
True or False: Over 80% of all dental injuries involve the upper front teeth.
True. For one thing, the front teeth areâ?¦ in front, where they can easily come in contact with stray objects. An individual's particular anatomy also plays a role: The more the front teeth "stick out" (referred to as "overjet" in dental parlance), the more potential for injury. In any case, theyâ??re the most likely to be damaged, and most in need of protection.
True or False: Your chance of receiving a dental injury in non-contact sports is very slim.
False. Even "non-contact" athletes moving at high rates of speed can be subject to serious accidents. Activities like bicycling, motocross, skateboarding, skiing and snowboarding all carry a risk. The accidents that result can be some of the most complicated and severe.
True or False: An athlete who doesn't wear a mouthguard is 60 times more likely to suffer harm to the teeth.
True. This figure comes straight from the American Dental Association. So if you want to reduce your chance of a sports-related dental injury, you know what to do: Wear a mouthguard!
What's the best kind of mouthguard? Like any piece of sports equipment, it's the one that's custom-fitted just for you. We can fabricate a mouthguard, based on a precise model of your teeth, that's tough, durable and offers the best level of protection. And, as many studies have shown, that's something you just can't get from an off-the-shelf model.
If you have concerns about sports-related dental injuries and their prevention, please contact us or schedule an appointment for a consultation. You can learn more in the Dear Doctor magazine articles "Athletic Mouthguards" and "An Introduction to Sports Injuries & Dentistry."
By Sarah J. Morris, DDS, PLLC
August 14, 2013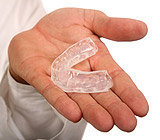 Youth sports can be a positive life experience for your child or teenager. But there's also a risk of injury in many sporting activities, including to the teeth and mouth. An injury to the mouth, especially for a child or young adolescent whose teeth are still developing, can have a significant negative impact on their oral health.
When it comes to teeth or mouth injuries, the best preventive measure is for your child to wear an athletic mouthguard, especially for contact sports like football, hockey or soccer. But be warned: not all mouthguards are alike — and neither is their level of protection.
Mouthguards can be classified into three types. The first is known as "stock," which is the least expensive and offers the least level of protection. They usually are available only in limited sizes (small, medium, large, etc.) and cannot be custom-fitted for the individual. This significantly lowers their protective ability, and thus we do not recommend these to our patients.
The next type is referred to as "boil and bite." These mouthguards are made of a material called thermoplastic, which becomes pliable when heated. When first purchased, the guard is placed in boiling water until soft; the individual can then place them in the mouth and bite down or press the guard into the teeth until it hardens and forms to their palates. Although this type offers a better fit and more protection than stock mouthguards, it isn't the highest level of protection available.
That distinction goes to the last type — a custom mouthguard made by a dentist. Although the most expensive of the three, it offers the best fit and the highest level of protection. A well-made custom mouthguard is tear-resistant, fits comfortably, is easy to clean and doesn't restrict speaking and breathing. We recommend this guard as your best alternative for protecting your child athlete from tooth and mouth damage.
If you would like more information on the use of athletic mouthguards for young athletes, contact us or schedule an appointment for a consultation. You can also learn more about this topic by reading the Dear Doctor magazine article "Mouthguards."