Posts for tag: periodontal (gum) disease
By Sarah J. Morris, DDS, PLLC
October 24, 2018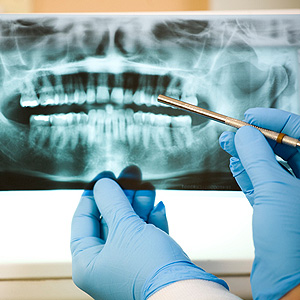 If you've had periodontal (gum) disease, you've no doubt experienced gum inflammation, bleeding or pain. But your gums may not be the only mouth structures under assault — the disease may be damaging the underlying support bone.
Although easing soft tissue symptoms is important, our primary focus is to protect all your teeth's supporting structures — the gums, the attaching ligaments and, of course, the bone. To do so we must stop the infection and reduce the risk of reoccurrence.
Stopping gum disease depends on removing its source — plaque, a thin biofilm of bacteria and food particles accumulating on tooth surfaces, due to poor oral hygiene. We must remove it mechanically — with hand instruments known as scalers or ultrasonic equipment that vibrates the plaque and calculus (hardened plaque deposits) loose.
It's not always a straightforward matter, though, especially if the diseased gum tissues have pulled away from the teeth. The slight natural gap between teeth can widen into voids known as periodontal pockets; they fill with infection and can extend several millimeters below the gum line. We must thoroughly cleanse these pockets, sometimes with invasive techniques like root planing (removing plaque from the roots) or surgical access. You may also need tissue grafting to regenerate gum attachment to the teeth.
One of the more difficult scenarios involves pockets where roots divide, known as furcations. This can cause cave-like voids of bone loss. Unless we treat it, the continuing bone loss will eventually lead to tooth loss. Besides plaque removal, it may also be prudent in these cases to use antimicrobial products (such as a mouthrinse with chlorhexidine) or antibiotics like tetracycline to reduce bacterial growth.
Perhaps the most important factor is what happens after treatment. To maintain gum health and reduce the chances of re-infection, you'll need to practice diligent daily hygiene, including brushing, flossing and any prescribed rinses. You should also keep up a regular schedule of office cleanings and checkups, sometimes more than twice a year depending on your degree of disease.
If you would like more information on treatments for gum disease, please contact us or schedule an appointment for a consultation. You can also learn more about this topic by reading the Dear Doctor magazine article "Treating Difficult Areas of Periodontal Disease."
By Sarah J. Morris, DDS, PLLC
August 30, 2012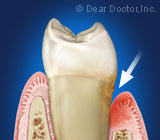 If you see blood when you brush or floss your teeth, it generally indicates a problem with your oral health. You may think you are brushing too hard, but this is not usually why gums bleed. The usual culprit is dental plaque.
Plaque is the sticky, whitish film of bacteria that forms on your teeth every day. If you brush regularly, you probably remove most of it — but some may remain behind and accumulate where your teeth meet your gums, particularly between your teeth. As the bacteria build up, along with by-products of their metabolism (the chemical reactions that maintain their lives), they cause inflammation, called gingivitis, in the adjacent gums.
Bleeding gums are an early symptom of gingivitis. Continuing contact with plaque at the gum line can cause your gum tissue to separate from nearby teeth, creating pockets in which the inflammation becomes even worse. The process leads to periodontal disease ("peri" – meaning around, "odont" – tooth). The increasing infection can eat away the bone that anchors the teeth, leading to possible tooth loss. Periodontal disease is not an uncommon problem. About 90% of the population has bleeding gums at some time or another, and approximately 10% go on to develop periodontal disease.
When you lose bone around your teeth, the gums separate from the tooth and "pockets" form between your teeth and gums. The inflammation and infection may continue within the pockets even if your gums have stopped bleeding when you brush. That's why it is important to have regular dental exams — to check up on and stop periodontal disease before it has a chance to cause serious damage.
There may also be other reasons for bleeding gums that have to do with your general state of health. Women who have elevated levels of hormones caused by birth control pills or pregnancy may experience an increased response to plaque that makes their gums bleed more easily. Increased bleeding in your gums can also be caused by some diseases or as a side effect of some medications.
The most important way to prevent bleeding gums is to learn proper brushing and flossing techniques so that you effectively remove plaque from your teeth on a daily basis. If you are not sure you are using the right techniques, make an appointment and have us demonstrate at your next dental visit.
With all the best intentions, some plaque may remain. Plaque that is allowed to stay on your teeth hardens into a substance called tartar or calculus. This must be removed periodically with a professional cleaning by me or by our hygienist.
With not too much effort, you can ensure that your teeth are clean and plaque free, and your healthy gums no longer bleed.
Contact us today to schedule an appointment to discuss your questions about bleeding gums. You can also learn more by reading the Dear Doctor magazine article "Bleeding Gums."
By Sarah J. Morris, DDS, PLLC
November 20, 2011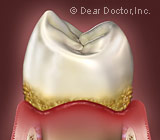 Since the dawn of man, periodontal (gum) disease has impacted humans. And while dental health has dramatically improved over the generations, the facts are still clear — millions of Americans are suffering from gum disease and probably do not even know that they have a problem. This is because periodontal disease most often starts without any symptoms or ones that most people tend to discount or ignore.
Stage 1: Gingivitis. The first stage of gum disease is inflammation of the gingiva (gums) without bone loss. While nearly all people will develop gingivitis in the absence of good oral hygiene, only 10 to 15% of them will go on to develop more advanced stages of the disease.
Stage 2: Early periodontitis. With this stage, gingivitis progresses into the deeper periodontal structures — the tissues that attach the teeth to the bone resulting in early or beginning bone loss. About 10% of the population develops full-blown periodontitis with progressive bone loss.
Stage 3: Moderate periodontitis. The third stage of gum disease results in moderate bone loss (20 to 50%) of root surfaces of the teeth due to continued destruction of the surrounding tissues and bone. Periodontal disease is "cyclical" — it goes in cycles with bursts of activity, followed by a period in which the body tries to recover. This is called chronic inflammation, or frustrated healing.
Stage 4: Advanced periodontitis. With the final stage of gum disease, there is severe bone loss (50 to 85%) from the tooth's root. This stage includes looseness of teeth, moving teeth, abscess formation with red, swollen and painful gums. The end results — eating and even smiling is difficult and uncomfortable, and you could lose all your teeth.
You can learn more about gum disease in the Dear Doctor article, "Understanding Gum Disease."
Have We Described Your Mouth?
If any of the above stages sounds like we are talking about your mouth, contact us today to schedule a consultation, discuss your questions and receive a thorough exam. If addressed promptly and with commitment to following your treatment plan, your mouth can return to good oral health.