Posts for tag: tooth pain
By Sarah J. Morris, DDS, PLLC
November 08, 2018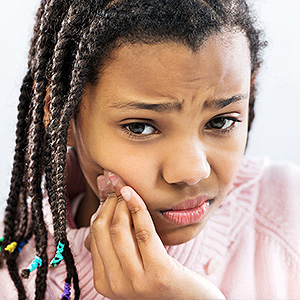 Nothing grabs your attention like a sharp tooth pain, seemingly hitting you out of nowhere while you're eating or drinking. But there is a reason for your sudden agony and the sooner you find it out, the better the outcome for your oral health.
To understand tooth sensitivity, we need to first look at the three layers of tooth anatomy. In the center is the pulp filled with blood vessels and nerve bundles: it's completely covered by the next layer dentin, a soft tissue filled with microscopic tubules that transmit sensations like pressure or temperature to the pulp nerves.
The third layer is enamel, which completely covers the crown, the visible part of a tooth. Enamel protects the two innermost tooth layers from disease and also helps muffle sensations so the tooth's nerves aren't overwhelmed. The enamel stops at about the gum line; below it the gums provide similar protection and sensation shielding to the dentin of the tooth roots.
Problems occur, though, when the dentin below the gums becomes exposed, most commonly because of periodontal (gum) disease. This bacterial infection caused by dental plaque triggers inflammation, which over time can weaken gum tissues and cause them to detach and shrink back (or recede) from the teeth. This can leave the root area vulnerable to disease and the full brunt of environmental sensations that then travel to the nerves in the pulp.
Tooth decay can also create conditions that cause sensitivity. Decay begins when certain oral bacteria multiply and produce higher than normal levels of acid. The acid in turn dissolves the enamel's mineral content to create holes (cavities) that expose the dentin. Not treated, the infection can eventually invade the pulp, putting the tooth in danger of being lost unless a root canal treatment is performed to remove the infection and seal the tooth from further infection.
So, if you begin experiencing a jolt of pain while eating or drinking hot or cold foods or beverages, see your dentist as soon as possible to diagnose and treat the underlying cause. And protect your teeth from dental disease by practicing daily brushing and flossing, as well as seeing your dentist for regular dental cleanings and checkups. Don't ignore those sharp pains—your teeth may be trying to tell you something.
If you would like more information on tooth sensitivity, please contact us or schedule an appointment for a consultation. You can also learn more about this topic by reading the Dear Doctor magazine article "Treatment of Tooth Sensitivity."
By Sarah J. Morris, DDS, PLLC
February 03, 2018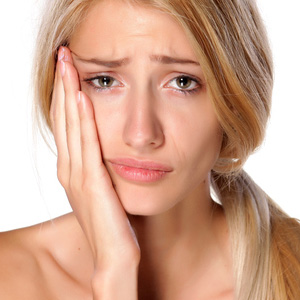 Tooth decay is one of the most common diseases in the world, nearly as prevalent as the common cold. It's also one of the two major dental diseases—the other being periodontal (gum) disease—most responsible for tooth and bone loss.
Tooth decay begins with high levels of acid, the byproduct of oral bacteria feeding on food remnants like sugar. Acid can erode tooth enamel, leading to a cavity that will require removal of decayed material around it and then a filling.
Sometimes, though, decay can spread deeper into the tooth reaching all the way to its core: the pulp with its bundle of nerves and blood vessels. From there it can travel through the root canals to the bone. The continuing damage could eventually lead to the loss of the infected tooth.
If decay reaches the tooth interior, the best course of action is usually a root canal treatment. In this procedure we access the pulp through the crown, the visible part of the tooth, to remove all of the diseased and dead tissue in the pulp chamber.
We then reshape it and the root canals to receive a filling. The filling is normally a substance called gutta percha that's easily manipulated to conform to the shape of the root canals and pulp chamber. After filling we seal the access hole and later cap the tooth with a crown to protect it from re-infection.
Root canal treatments have literally saved millions of teeth. Unfortunately, they've gained an undeserved reputation for pain. But root canals don't cause pain—they relieve the pain caused by tooth decay. More importantly, your tooth can gain a new lease on life.
But we'll need to act promptly. If you experience any kind of tooth pain (even if it goes away) you should see us as soon as possible for an examination. Depending on the level of decay and the type of tooth involved, we may be able to perform the procedure in our office. Some cases, though, may have complications that require the skills, procedures and equipment of an endodontist, a specialist in root canal treatment.
So, don't delay and allow tooth decay to go too far. Your tooth's survival could hang in the balance.
If you would like more information on tooth decay treatment, please contact us or schedule an appointment for a consultation. You can also learn more about this topic by reading the Dear Doctor article "Root Canal Treatment: What You Need to Know."
By Sarah J. Morris, DDS, PLLC
May 18, 2017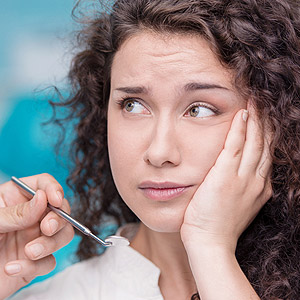 A toothache means you have tooth decay, right? Not necessarily — your pain could be signaling a number of potential causes. Determining where, how much and how often it hurts will help us find out the cause and apply the appropriate treatment.
A single symptom, for example, can mean many things. A twinge of tooth pain as you consume hot or cold foods might indicate localized tooth decay easily repaired by a filling. But it could also mean the tooth's root surface has been exposed as a result of periodontal (gum) disease — aggressive plaque removal and maybe even gum surgery might be necessary. Or it could be a sign of inner pulp decay: in this case you'll likely need a root canal treatment to save the tooth.
Pulp decay can also announce itself with a very sharp and constant pain radiating from one or more teeth. You shouldn't hesitate to see us for an examination — even if the pain goes away. Pain cessation most likely means the nerves in the pulp have died. The infection, however, still exists, so you'll still probably need a root canal treatment.
If you notice severe, continuous pain and pressure around a tooth, particularly about the gums, you may have a localized, inflamed area of infection called an abscess. An abscess can be the result of gum disease, but it might also stem from a foreign body like a popcorn husk, getting stuck below the gums. We'll need to conduct a complete dental examination to determine the cause and how to treat it.
Finally, a sharp pain when you bite down could mean many things such as a loose filling or a fractured (cracked) tooth. The latter especially requires immediate attention to save the tooth.
These are just a few of the possible causes behind mouth or facial pain. Although all of them are serious, a few are true dental emergencies and can't wait if we're going to save a tooth. The sooner you see us, the sooner we can help relieve the pain, minimize any damage and avert disaster.
If you would like more information on treating tooth pain, please contact us or schedule an appointment for a consultation. You can also learn more about this topic by reading the Dear Doctor magazine article "Tooth Pain? Don't Wait!"