Posts for tag: tooth wear
By Sarah J. Morris, DDS, PLLC
January 07, 2015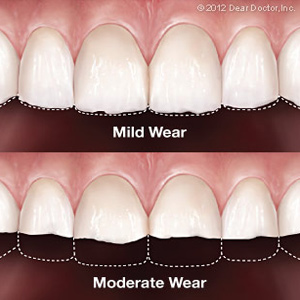 Teeth are naturally strong and durable — if we can prevent or control dental disease like tooth decay or gum disease, they can last a lifetime. Still, teeth do wear gradually as we age, a fact we must factor into our dental care as we grow older.
Sometimes, though, the wear rate can accelerate and lead to problems much earlier — even tooth loss. There are generally four ways this abnormal wear can occur.
Tooth to tooth contact. Attrition usually results from habitual teeth grinding or clenching that are well beyond normal tooth contact. Also known as bruxism, these habits may occur unconsciously, often while you sleep. Treatments for bruxism include an occlusal guard worn to prevent tooth to tooth contact, orthodontic treatment, medication, biofeedback or psychological counseling to improve stress coping skills.
Teeth and hard material contact. Bruxism causes abrasion when our teeth regularly bite on hard materials such as pencils, nails, or bobby pins. The constant contact with these and other abrasive surfaces will cause the enamel to erode. Again, learning to cope with stress and breaking the bruxism habit will help preserve the remaining enamel.
Chronic acid. A high level of acid from foods we eat or drink can erode tooth enamel. Saliva naturally neutralizes this acid and restores the mouth to a neutral pH, usually within thirty minutes to an hour after eating. But if you're constantly snacking on acidic foods and beverages, saliva's buffering ability can't keep up. To avoid this situation, refrain from constant snacking and limit acidic beverages like sodas or sports drinks to mealtimes. Extreme cases of gastric reflux disease may also disrupt your mouth's pH — seek treatment from your medical doctor if you're having related symptoms.
Enamel loss at the gumline. Also known as abfraction, this enamel loss is often caused by receding gums that expose more of the tooth below the enamel, which can lead to its erosion. Preventing and treating gum disease (the leading cause of receding gums) and proper oral hygiene will lower your risks of receding gums and protect tooth enamel.
If you would like more information on tooth wear, please contact us or schedule an appointment for a consultation. You can also learn more about this topic by reading the Dear Doctor magazine article "How and Why Teeth Wear."
By Sarah J. Morris, DDS, PLLC
May 22, 2014
Tooth wear, especially on biting surfaces, is a normal part of aging — we all lose some of our tooth enamel as we grow older. Even primary ("baby") teeth may show some wear before they're lost. But there's also excessive, premature tooth wear caused by disease or abnormal biting habits. This type of wear is cause for concern and action before it leads to tooth loss.
Normal tooth wear occurs because of what teeth naturally do — bite and chew. When teeth come together as we eat they generate a modest amount of force: between 13 and 23 pounds. Our teeth also make brief contacts hundreds to thousands times a day. Again, this produces force, though not to the extent we see with biting and chewing: somewhere between 0.75 and 7.5 pounds. These glancing contacts are actually good for dental health because they provide needed stimulation to the teeth and jaws that help the body maintain healthy bone and tooth attachments.
But parafunctional (outside the normal function) habits like teeth grinding or foreign object chewing can greatly increase the generated force, up to 230 pounds. These may result in noticeable symptoms like fractures or loose teeth, but not always — the damage may not be noticeable until much later in the form of excessive tooth wear.
These parafunctional habits aren't the only cause for excessive tooth wear; tooth decay can weaken the tooth structure, making it more susceptible to wear. And, some restorative materials used for fillings may also affect the rate of wear.
Because excessive tooth wear may or may not present with immediate symptoms, it's important to maintain regular dental checkups to monitor the condition of your teeth. Our training and experience helps us identify signs of excessive tooth wear and, depending on the extent of damage, work with you on a treatment plan. You should also keep us informed about oral habits, especially teeth grinding, thumb sucking or foreign object chewing (toys, nails, pencils, etc.).
Your teeth will wear as you grow older. By keeping a close eye on your teeth, we'll help you keep that wear at a normal rate.
If you would like more information on preventing excessive tooth wear, please contact us or schedule an appointment for a consultation. You can also learn more about this topic by reading the Dear Doctor magazine article "When Children Grind Their Teeth."
By Sarah J. Morris, DDS, PLLC
March 11, 2012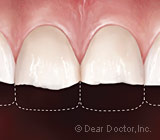 You may have noticed, as you get older, that the enamel of your teeth is looking worn in certain areas. Sometimes tooth wear takes the form of a minor chipping or fracturing at the incisal (cutting) edges of the teeth, or a loss of tooth material from the area near the gum line. In more severe cases, worn teeth look quite a bit smaller than they used to. Why does this happen?
Some wear with age is natural. But too much wear can interfere with your bite, expose more sensitive inner parts of the tooth to decay, and give you a more aged appearance.
There are things you can control that affect wear:
Your habits: Clenching or grinding habits, also called "bruxism," is a major cause of tooth wear. The motion of teeth sliding over each other with forces that are beyond what's normal for biting or chewing causes a mechanical removal of tooth enamel. This can happen during sleep or periods of high stress. In either case there are therapies available, such as a thin, professionally made mouthguard that prevents your teeth from coming into contact with each other. Holding foreign objects, such as nails and bobby pins, between your teeth can also cause wear.
Your diet: Tooth enamel can be eroded (dissolved away) by acidic beverages, such as sodas, sports drinks and juices. Frequent snacking on sugary foods encourages the growth of oral bacteria that produce acid as a byproduct — also leaving your teeth vulnerable to tooth decay. Your saliva can buffer the effects of the acid in your mouth in about half an hour; if you consume these types of foods and beverages continually, there won't be enough time for this to work.
We can restore the appearance and function of worn teeth in a variety of ways. Porcelain crowns and veneers, for example, can re-establish the normal thickness and length of teeth while improving their color and giving you a more youthful appearance.
If you have any questions about tooth wear, please contact us today to schedule an appointment for a consultation. You can learn more about tooth wear by reading the Dear Doctor magazine article "How And Why Teeth Wear."